Testimonials
The process of building a new home can be stressful under the best circumstances.  Clients often find themselves overwhelmed with the number of decisions that go into the design of a new living space. We strive to provide our customers with an experience that they will cherish, by guiding them every step of the way.  We will make every effort to make this daunting task enjoyable.  We have worked with a wide variety of personalities and had the pleasure of meeting a host of excellent people.  Many of our clients have shared thanks, which we genuinely appreciate.  We want to work for you and hope we can make our next positive testimonial your story.
Mark McNally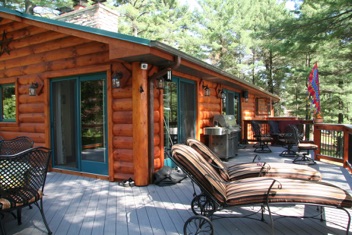 "I brought Scott and his team in to help me fully unlock the potential on a beautiful waterfront but run down residential property. And while I had some ideas of features and building amenities that were in the final plan, Scott's designing eye captured the "feel" for numerous suggestions which really made the project successful. This type of collaboration is not typically seen in construction projects and yet is vital. Scott and his team are certainly a credit to the building profession with their professionalism, adherence to deadlines, quality construction techniques and communications."
Ann and Louie Keiler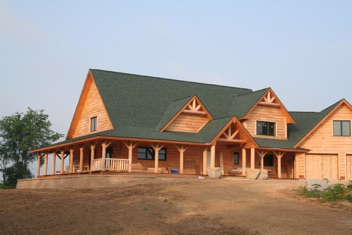 "We knew we wanted to build a log home, but finding the right people to work with can be daunting.  When we met Scott, and talked with him we felt a connection right away. He cared about our home turning out the way we wanted it to as much as we did.  It was a good experience; one I would love to repeat (except that I love my log home too much to want to move!)"
The Balls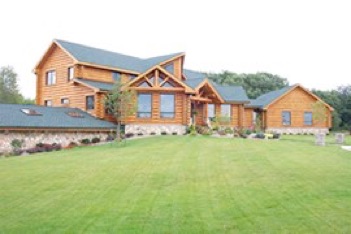 "We very much enjoyed working with Scott Moran on our log home building experience (adventure?).  He shared helpful ideas that were both economical and feasible, as well as resourceful and creative.  He was and is considerate of our feelings, needs, wants and desires. Scott came through with positive feedback and suggestions throughout the process. Scott is reliable, dependable, honest and trustworthy, and he is a pleasure to work with."
Brian and Vicki Dostalek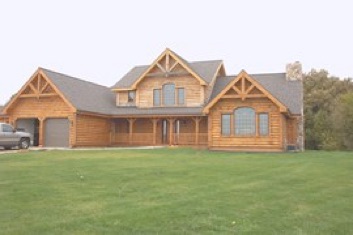 "I wanted to let you know how much of a pleasure it was working with you in building our dream home. Your patience was much appreciated. It was nice having someone who also lives in a log home give advice on what we should and shouldn't do, especially knowing it would save us a bundle down the road. I have to say it was nice having someone I know and trust looking over this project who cared about it as much as I did. Thank you for taking care of all the little details. We are blessed to have you facilitate the construction of our home as well as being a good friend. Thanks again."
The Nachreiners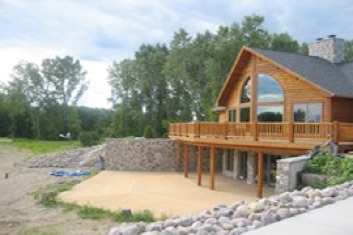 "Scott made us a feel at home before we even started building our dream house. We decided to draw up our own plans and he posed all the right questions to help us realize our dreams. Once we turned things over, a professional draft was presented and we were on our way! Thanks Scott for both your professional and personal support."
Susan Brightbill Dahlseid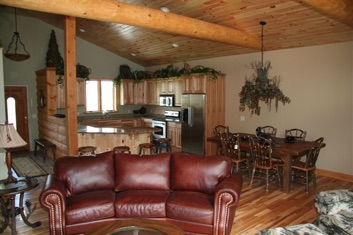 "I have found Scott Moran to be an absolutely exceptional builder, innovator, carpenter, and person.  Our beautiful home is top-notch in every way and it's because Scott truly cares.  His attention to detail is astounding.  We've lived in our home for years and yet I still marvel at his craftsmanship and finishing touches.  He went above and beyond — even being available to answer questions long after the job was completed.  He's smart, reliable, and an all-around nice guy.  I have the greatest respect for Scott and I look forward to building another home with him someday. "
The Mahoneys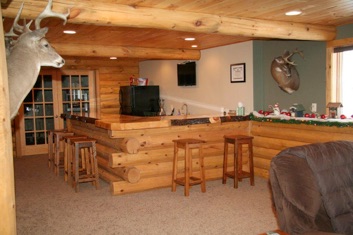 "The dream log cabin we always wanted is now in our basement!  Thanks to the amazing quality and professionalism of Scott Moran (The Log Home Guy), he turned our basement into a natural wood paradise.  We really appreciate Scott's suggestions and advice throughout the whole process to make a cozy place to relax and entertain.  Scott not only crafted a beautiful living room, but also built a log bar that is unique and one-of-a-kind.  We are 110% satisfied with every aspect of our basement and will have many years of enjoyment to come! "
The Frawleys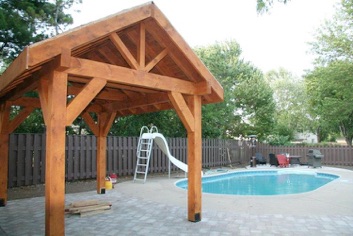 "We love to entertain, but we don't have the largest house. The employees of The Log Home Guy were able to expand our entertaining space by creating an outdoor living area that we can utilize from early Spring to late Fall. They are meticulous with their work and are a pleasure to work with. We would highly recommend them to anyone looking to transform their backyard."
Gerald Klemp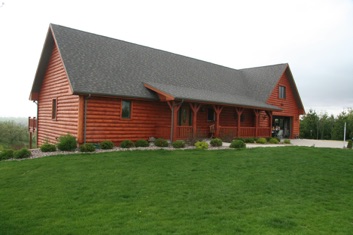 "Many years ago I worked for Scott when he was in management at General Motors.  I always admired his commitment, work ethic and objective approach to problem solving.  Scott has always had a passion for unique building challenges as long as I have known him.  When it came to building our dream home, Scott was an easy choice as I know him to be honest and an easy guy to work with.  It is so well insulated that when I run the wood stove I shut the heat completely off for a few days at a time.  This home is everything we dreamed it would be and more.
Lori
"Being a single mom in an older home and having to maintain a large property,  there are always home projects to be done.  Scott has been my go to guy for consultation, repairs and remodeling for years.  It is nice to have someone you know and can trust to give you straight forward objective answers and the help when you need it.  His team is conscientious, polite, and hard working. Their estimates are accurate and the work is done on time. Scott and his team can handle large and small projects and I have never been disappointed with the quality."
Ted and Becky Reeb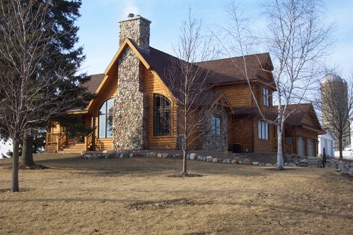 "We feel so fortunate to have found a builder that thinks as we do.  He was very professional  and went above and beyond when we were building our log home.He had great ideas that he picked up during his years as a builder.  He was always there if we had questions, and if he didn't know the answer he was sure to find it somehow.  We love our log home and can honestly say that Scott helped make it possible.  He's the real-deal!!!"
M.J. Schwarz
"Scott's integrity, professionalism, and attention to detail far exceeded our expectations. I highly recommend "The Log Home Guy" and his exceptional team of builders. They are extremely dedicated to their profession and will create the home of your dreams… as they did for us."
Vince and Mary Pat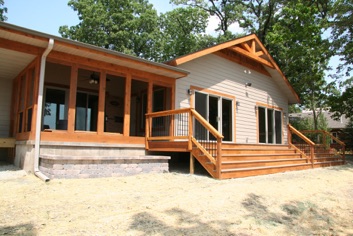 We immediately felt good with our decision to have Scott be our builder for our second home. Not living there full time made the decision to do such a dramatic makeover even harder. Scott was easily accessible and kept us updated with tons of photos.  As the construction went on and all the many issues with remodeling arose, Scott held our hand every step of the way.  Scott's incredible attention to detail helped us create the exact lakehouse we've dreamt about for 25 years. Throughout this enormous project, Scott proved over and over again to be an honest man with lots of integrity.  Not only did we find an incredible builder, we have a new friend."
Michael W. Mack
A short time ago, I found myself in a position to make a lifelong dream come true.  I had just retired and purchased the last available lot on a small, remote lake in northwest Wisconsin.  An old friend in the local building trades commended Scott Moran of Wisconsin Log Homes as the best "Log Home Guy" and general contractor to get my dream cabin up and running.

I contacted Scott and through a long winter we roughed out a cabin design, discussed materials and methods and established a budget.  By spring we were ready to go.  Although my lot was miles off pavement, down gravel forest roads and sandy township lanes, Scott and his crew were soon on the job and working like busy beavers!

Over a short period of time I was able to watch my property go from an undeveloped lot to a perfect gem of a Northwood's hunting and fishing cabin.  Scott's crew was a joy to watch; they were the epitome of professional, highly skilled craftsmen and yet always had time to answer a question or concern from an anxious (or nosey) homeowner.

During the course of the construction of my cabin I watched Scott and his crew deal with; the removal of tons of scrap metal from an uncharted dump, a plague of inquisitive skunks, a huge patch of poison oak that put one member of the crew in the hospital for two weeks and an unusually large crop of hungry wood ticks.

To my very pleasant surprise my project came in on time and on budget and exactly as promised in both content and quality.

I am now the proud owner of the "perfect" Northwood's hunting and fishing cabin.

I heartily recommend Scott Moran (The Log Home Guy) of Wisconsin Log Homes to anyone who wants a home, cabin, or structure built.  The work ethic, the craftsmanship and the attention to the smallest detail shown by these people has to be seen to be appreciated!